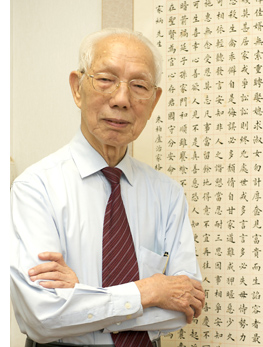 Dr. Tin Ka Ping (1919-2018), founder of the foundation, was born in Dabu County of Guangdong Province. In 1935, after his father passed away, he headed to Vietnam and established a porcelain clay business. Escaping from Japanese occupation, he started his business in rubber industry in Indonesia in 1939 and later became a prominent industrialist.
In 1958, for his children have education in a traditional Chinese environment, Dr. Tin moved to Hong Kong with his family. Driven by his adventurous and entrepreneurial spirit, he built a factory in Tuen Mun in Hong Kong's New Territories to manufacture plastic film and synthetic leather. In the 1960s and 1970s, Dr. Tin served as a director of Pok Oi Hospital, Tung Wah Group of Hospitals, and Yan Oi Tong, three of the largest charities in Hong Kong at time. He actively supported the charity events, financing many social welfare projects. Following his vision of "from the society, for the society" and " benefit the future generations", he set up Tin Ka Ping Foundation in 1982.
Dr. Tin was awarded Medal of Honour in 1982 in Hong Kong and Gold Plate honour for his contribution to public welfare" in 1988 in Taiwan. Chinese government named an asteroid (No. 2886) in his honour in 1994, and he also was awarded MBE in 1996. Dr. Tin was named "China's Philanthropist" in 2004, followed by a Grand Bauhinia Medal (GBM) in 2010 by the Hong Kong government. He received honorary degrees from universities in Hong Kong, Taiwan, and Mainland China, and has been made honorary citizen by over 80 Chinese cities.